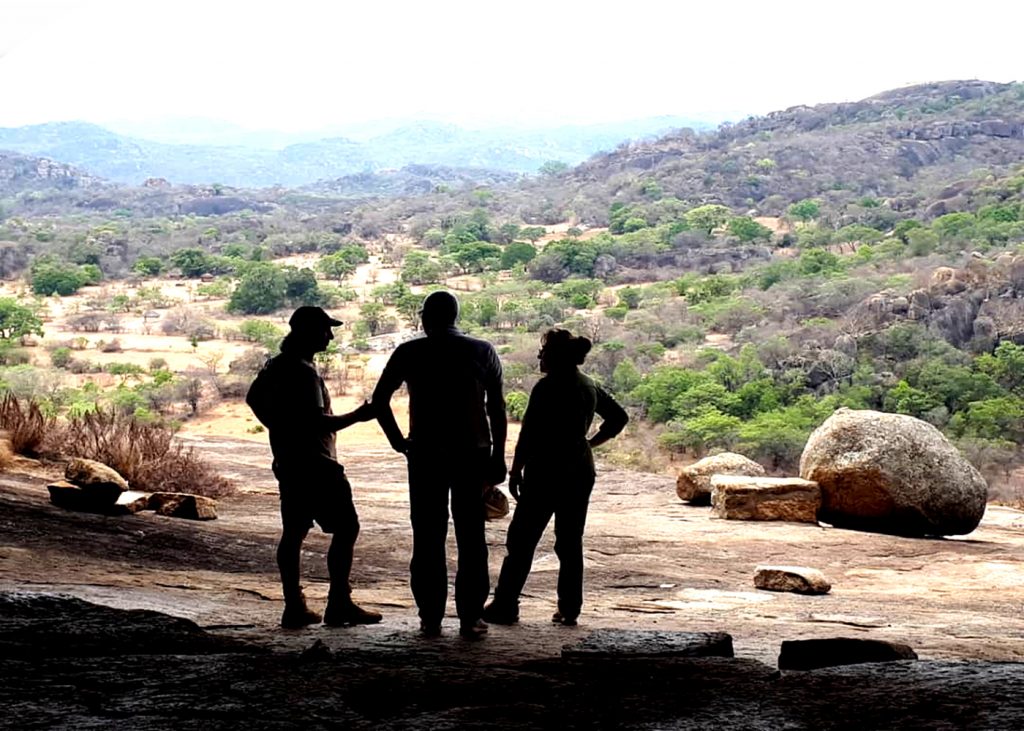 Africa is a mysterious and fascinating continent and in its southern region there is a pearl rich in wildlife, stunning places and landscapes, myths, legends and history, where great African animals cross savannahs and bushlands: this place is Zimbabwe. African Path Safaris takes you right here, to one of the most fascinating places on the African continent, with motherlanguadge Italian-speaking guides, so not even the smallest detail of what surrounds you is missed.
We are the only Italian mother language local operator in Zimbabwe, specialized in incoming tourism from Italy to Zimbabwe, with twenty years of experience in organizing and guiding journeys in this environment. We are agents of ZIMPARKS (Parks And Wildlife Management Authority) in Zimbabwe and agents of Wilderness Safaris in Zimbabwe. We are agents in Italy of the Volunteers Encounter wildlife volunteer program.
We know and respect Africa, thus Africa tolerates us and gives us surprises.
Our guides are professionals with years of training and experience, certified and endorsed by F.G.A.S.A. (Field Guides Association of Southern Africa) and the Z.T.A. (Zimbabwe Tourism Authority) and in possession of valid licenses for the current year.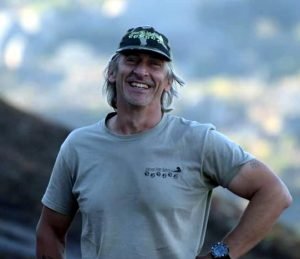 Gianni Bauce, is a professional guide with strong wildlife and environment experience.
It is accredited by:
– ZIMPARKS (Zimbabwe Parks And Wildlife Management Authority) under license #21053-B
– ZPGA (Zimbabwe Professional Guides Association)
– F.G.A.S.A. (Field Guide Association of Southern Africa), under license # B8061 / 07/1.
– Z.T.A. (Zimbabwe Tourism Authority), under license # TGD0663.
– CATHSSETA (Cultural Art Tourism Hospitality and Sport Sector Education and Training Authority of South Africa), under license # 613 / C / 045650.

Specialized in the capture and manipulation of African venomous snakes and bite treatment at African Reptiles and Venom center in Johannesburg.
Qualified for paramedical rescue by the Italian Red Cross, by the EMS (Emergency Medical Service) of South Africa and EMRAS (Emergency Medical Resque Ambulance Service) of Zimbabwe and is also qualified for paramedic rescue with remote assistance. He has experience in anti-poaching, animal & human tracking.
He has been a Security Operator (Ronin SA # 200912GB), international license of the S.I.A. (Security Industry Authority), license # 0830 0128 1891 4882.
He speaks Italian, English, Spanish and Shona.
Passionate photographer, he is the author of numerous books of novel, conservation and travel guides about Africa, he appeared in numerous television broadcasts and shows and documentaries on RAI and Mediaset italian channels.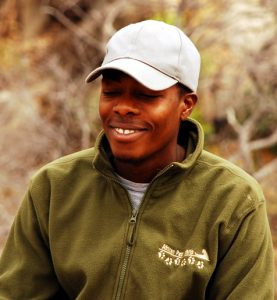 Young and brilliant assistant in the field, precise, carefull, impeccable and above all … an excellent chef.  He speaks English, Shona and a bit of Italian.
Our safaris have a strongly naturalistic character and the mission of our guides is to show you the wonderful world of African nature, whose protagonists are the legendary large animals of the bush: elephants, lions, leopards, rhinos, but also a wide variety of wonderful little actors, often unnoticed.
Each natural scenery has a history that goes back millions of years and it is our pleasure and privilege to tell you its story and to introduce you to this land of wonders and make your safari unforgettable.
Our groups are composed of a maximum of 4 or 5 people, to minimize our impact on the environment and make your trip more intimate. We propose itineraries based on our experience, but our real strength is the "tailor-made safari": we build each itinerary according to your needs and passions.
We do not guide tourists, we guide travelers: people who are thirsty to know nature, places, history and cultures, a thirst that determines in them the irresistible, indomitable impulse to travel.

We don't like to leave Africa outside the door at night: in our journeys we use lodges and hotels as accommodations, but we prefer the tented camp when we are in the wilderness. The camp ensures us safety and allows us to enjoy the magical African night.
When in the evening we sit around the fireplace, chatting, warming up and getting lost in the hypnotic game of the flames that dance in the dark, without missing the luxury and comforts of the frenetic world that you have temporarly left, you forget about phones, tvs and laptops, deeply lost in the peacefull world you dream every day. We are at the camp, around the fire, lulled by the thousand noises of the African night: the yowling of a hyena, the tinkling of a fruit-eating bat, the mournful song of a nightjar, the dull rumbling of an elephant, the distant grotesque laugh of a hippos in the river, the light breeze caressing the leaves of the trees, the crackle of burning wood. Maybe later, if the bush wuold be generous, we will hear the deep roar of the lion or the rasping roar of the leopard.
Dinner is just over and it is priceless to rest around the fire with a hot cup of coffee or a glass of Brandy in hand or smoking a cigar, listening and telling stories, embraced by darkness of the wilderness. Later, safely under the blanket in the tent, we will sleep soundly or, if lucky enough to wake up in time, to hear or see, even for a moment, one of the many creatures that visit our sleeping camp under the moon.
In our itineraries we also accomodate in lodges and hotels, but as far as possible, especially in the wilderness, we use the tented camp. The strong canvas of the large tents provides us safety even during the dark African night, but allows us to hear and sometimes, to see through the mosquito nets what is happening outside, because we don't like leaving Africa out the door at night.
Tents are 2m x 2m dome tents (suitable for 3 people, but we only accomodate 2 people for each tent, to ensure the best privacy and enough space). Each tent is about 1.7 m heigth and is equipped with mosquito nets on windows and main door. Inside, you'll find camp stretchers with mattresses, pillow and bed-sheet, and an electric bulb. Several pouches and storage compartments are available for your stuffs.
In the camp kitchen our staff cook full meals, tasting local specialties and products, without however missing out on anything we appreciate most about traditional cuisine.
In the mobile camps we will be able to use public facilities (toilets and showers), where warm water is usually available. Towels, blankets, bed-sheets, pillow cases and pillows are provided to the guests, and a laundry service is available upon extra charge.
Our philosophy is to experience Africa minimizing our disturbance to the environment and the impact of our presence in the wilderness. The operate a minimum use of electricity in the camp, but a power inverter is available on the vehicle to recharge mobile phones, cameras and batteries. In the evening, candles, lanterns and fire are the only lights. We don't like noise, because it disturbs both animals and guests and distracts us from what the wilderness whispers to us.
When darkness has fallen and the last drop of coffee has been sipped, the candles switch off, the tents close and the silence falls down onto the camp. We fall asleep, lulled by the sounds of the African night.
Good rest and adventurous dreams…
A trip cannot be pre-packaged. It would never be the same again. The journey begins long before departure: it starts when the mind lays on a place and the idea of the journey is born.
We explore maps, read books, listen to stories and everything contributes to building up the project. And everything is already a journey: the departure is not the beginning, but the simple continuation of something that has already begun long before.
Observing a waterfall from afar is wonderful, but only those who are wet from the spray and quenched by the water that has just fallen downstream can say that they have known the waterfall. As well, only those who have heard the lion's roar a few meters away, or heard him walking beyond the canvas of the tent, they can say they have known the lion. The fireplace, the cool evening breeze, the fear of darkness with its thousand sounds, the priceless taste of fresh water in the morning, the dust on the skin. These are things that make a trip memorable.

Our vehicles are Land Rover Defender 110 with 9 seats, but accomodating a maximum of 6 people (two of which are staff). They are fit for the gravel roads and bush paths, and to carry all the camp's equipments, luggages and everything we need. The vehicles are equipped with long range additional fuel tanks, allowing us to travel even in remote areas where fuel is not available.
We generally tend to contain the daily transfer within a distance of maximum 300 kms and alternating a transfer day with one, two or more days of stay, rest and activities in the destination. However, some routes are not easyand require low speeds so that 80 km can be covered in 4 or 5 hours. Some transfers, even if contained within 300 km, can last the whole day. However, even these long transfers are never a waste of time: they allow you to see different environments, many of which are of extraordinary beauty; you can see wonderful lanscapes, meet local people from the villages and interact with them. This is also part of the journey.
Sometimes, an itinerary includes transfers by boats, ferries or even by air and some itineraries include several days in canoes along rivers. For the most demanding guests, we also provide transfers by plane.
Thus, while the kilometers flow, the red soil, villages, rivers, hills, herds of herbivores, woods and forests pass behind the windows and our next destination is just behind the corner, with a new wonderful surprising experience of Africa.
Eco-tourism means to travel and experience in areas of conservation in which efforts are made to preserve and conserve the environmental and also to improve the living conditions of the local communities.
Sustainable tourism is committed to developing and managing tourism activities in a way that benefits the environment, local communities and visitors, maximizing these effects without, however, putting excessive pressure, abusing or exausthing the natural and cultural resources. Another name for sustainable tourism is ìGreen Tourismî and refers to tourism management strategies aimed at conserving energy and water, as well as reducing waste and risks for the environment.
We adhere to this tourism policy and are committed to implementing sustainable tourism in the following ways:
– Operating trips within natural and conservation areas. This type of travel brings valuable currency into the bodies that manage conservation areas, environment, wildlife and vegetation. But it also leads to the maintenance and creation of jobs for the local communities, establishing a new and more virtuous way of seeing wildlife and nature: no longer as an exhaustible resource of food, firewood or animal parts to be trade illegally, but an opportunity to legally and sustainably improve communities' living conditions. When local communities understand that an elephant is more profitable when it is alive rather than dead, we have saved the species from extinction.
– Providing as much information as possible to our guests, so that they not only enjoy experiences, views and pleasant encounters, but also obtain basic education about the natural processes of the environment, habits and behaviors of animals, use of plants, geological origins of the areas and much more. This information, beside allowing the visitor to better understand what they are experiencing and notice what otherwise would remained hidden, also develops in the guests a new awareness and a renewed respect for the environment.
– Visiting places of cultural interest and providing information about the culture and society of the places visited, so that you can better understand the past and present of the destination.
– Interacting with the local population, especially in rural areas, in order to promote intercultural exchange and the local micro economy (markets, etc.).
– Supporting organizations engaged in environmental protection, in the training of staff operating in the conservation, in the recovery of disadvantaged people (orphanages, etc.).
– Operating in an ecologically sustainable way, paying attention to the production, management and disposal of waste, saving water and electricity, minimizing noise pollution.
– By adhering to local regulations and legislations, because operating legally allows to support the Bodies and Authorities responsible for the conservation and the management of tourism. Illegal operators do not help sustainable tourism, but they corrode it to the foundations.
– Support for local initiatives, which would be irrelevant if it were not supported by your contribution while traveling with us. Most of the donations addressed to these initiatives comes from you, dear guests, and for this we thank you indeed.
Among the many initiatives present in the area, we support the New Start Orphanage of Harare, the conservation org The Tashinga Initiative, based in Harare and operating in the Zambezi Valley; the conservation org IWCF, which supports and raises funds for conservation initiatives in Zimbabwe.
ETHICAL AND SUSTAINABLE BEHAVIOUR IN THE CAMP
Water is a precious resource and must be respected and saved. Turning off the shower or sink tap when you are not using water saves a huge amount of water.
Paper, wood and some organic waste can be burned on the camp fire, whilst plastic and plastic materials must be collected and taken out from the natural conservation areas, where they will be disposed off appropriately. Burning plastic materials produces dioxins and other toxic and highly polluting components that spread into the environment.
Glass (bottles, jars, etc.) and metal (bottle caps, can, etc.) must be collected and taken out of natural conservation areas, where it will be properly disposed.
Exhausted batteries from electrical equipment are highly polluting, so we will be grateful to all guests if they would kindly help us keep the impact of our travels sustainable by taking back home their exhausted batteries.
In order to save energy and reduce polluting waste such as batteries, lights in our camps is provided almost exclusively by means of candles and fireplace.
In camps where toilets will not be available, we will provide special paper bags in which we invite you to leave used toilet paper, used tissues and other combustible material used for personal hygiene, so that it can be returned to the camp without embarrassment and burnt into the fire.
Particular attention must be paid to smokers! The butts must absolutely not be left on the ground, but turned off and collected in the appropriate bags or occasionally thrown into the fire.